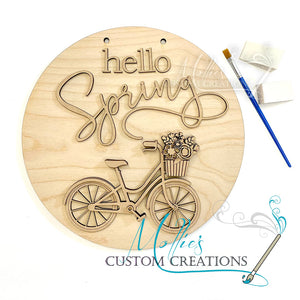 Hello Spring Bicycle Door Hanger | DIY Paint Kit Round Wood Sign Décor
This vintage-style bicycle has been making a comeback and I can see why!  It's screams sunshine, flowers, and happiness!   The bike has all the adorable details like a basket with flowers and fenders. 

This is a DIY paint kit with separate/layered laser cut wood pieces making it super easy to paint!  The bicycle itself is 4 separate layers.... again it's designed this way to make it easy to paint and to minimize the "stay inside the line" areas.  Things like the bike seat, bike frame, pedals, handlebar grips, basket and flowers are all separate pieces.
BUT WARNING:  Many of those separate pieces are small (under 0.5"), so this project is NOT suitable for younger children who still put things in their mouth or for anyone who has difficulty with small pieces. 
A few extra details: 
Materials: Round backboard is 1/4" Baltic Birch.  All elements of the bicycle and words are 1/8" MDF with 3M adhesive applied to the back that you peel and place after painting. 
Holes are laser cut into the top of the round and jute string will be provided for hanging. 
The round backboard is one solid BLANK piece with NO scored laser lines as guides.... this allows you to position the bike and words however you choose. 
SIZE CHOICES:
Currently I'm only offering 10.8 inch round but hope to add a 15 & 18 inch rounds in the near future.  If you don't see them below and are interested, please message me prior to ordering. 
WHEN ORDERING: You can order with or without paint, glue & painting supplies. 

"With Paint" kit includes: 
White, black, turquoise, pink, yellow, green, and purple acrylic paint. 
1 small paint brush, 1 chip brush, 3 makeup sponges, jute string & sandpaper. 
Please be aware that wood naturally has defects. Not every board is the same. There may be knots, wood grain and natural imperfections in your wood.
Additional Disclaimers:
Please be advised these signs are cut and engraved by a laser so they may have a slight burnt smell at first which will go away, and they also have browned edges due to being cut by a laser.
All products are made to order right here in my little shop, so unfortunately I have a no return and no refund policy, but if you have a problem with your order please reach out to me within 48 hours of delivery.
Please be advised colors may vary due to monitor and cell phone settings.
Shipping note: This item is made to order. Allow extra time for your special item to ship.
Once your item has been dropped off at the post office, the seller is no longer responsible for any damage, theft or missing packages. The buyer must contact the applicable shipping company to file a claim.
Adding product to your cart
Use left/right arrows to navigate the slideshow or swipe left/right if using a mobile device